After I discovered the two main reasons of memory problems and where to investigate, I finally worked on several factors.
The Orbassano yard, and the stations of Porta Nuova and Lingotto have a lot of tracks, that in simulation are maybe useless, in the sense that they are hardly necessary even for a complex scenario.
So I decided to create a series of loft tracks, not real, that are aesthetically equal to those of the Tracks packs, but obviously are not considered viable and are detached from the real track system. For the 3 mentioned yards, I replaced ca 50% of the tracks with these fake, and filled them with static rolling material and convoys (whose pack will be published shortly) that make the yard more real and improve the driving experience. On one hand, the use of memory has improved a lot, paying a bit by inserting static conveyors. <span">The end result, however, has been greatly improved, even from the point of view of driving experience in stations / yard. Here is a top view of a part of Orbassano yard with loft tracks (temporarily green) and static convoys.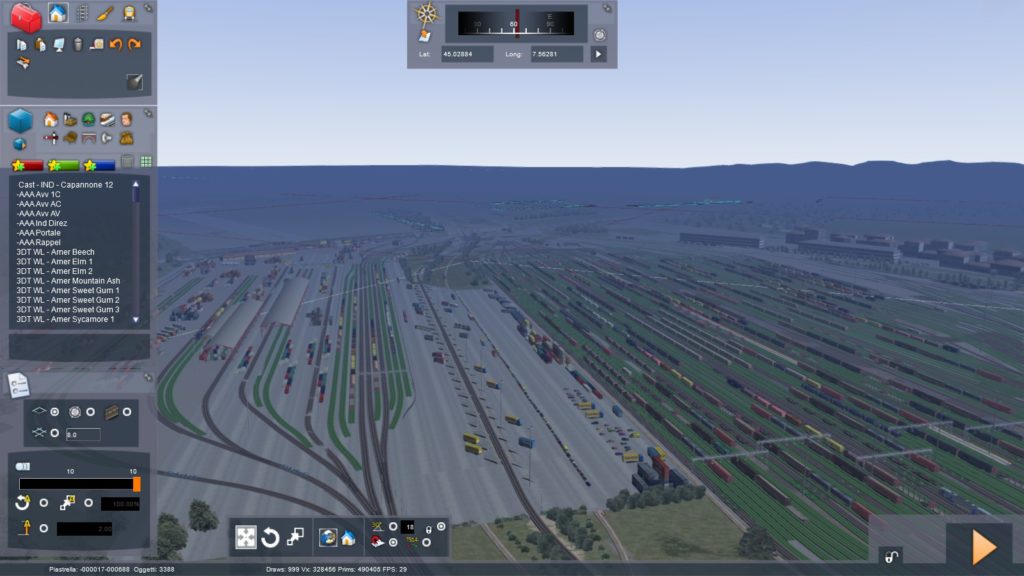 Second step, very important, I have created low poly track in addition to the high poly, where the sleeper fasteners have been removed, which pay an unacceptable memory cost in big station. With this new version, you can use the low poly binaries in big yard and the high poly in full line where it is less critical.
These two improvements gave a great result flat in all the route (curve B), but not for the Porta Nuova and Lingotto area where also the scenery objects were the problem and not only the track.
For a first optimization I came across a recently released patch that mentions the heaviness of ambient audio files. I then revised, reduced, and improved the positioning of environmental audio files that led to a certain reduction (curve C), but to this result there is also some contribution of new scenery objects carry-overed from Turin-Genova objects somewhat expensive at graphic level.
A further optimization came by installing the patch you find here, which reduces the impact of graphics files in the RW menu (curve D).
Last as a final step, I modified the loft tracks to remove the sleeper fasteners, the same stuff I did for the real tracks and the final result in curve E, which makes sense to be different from the D only in the final part, since <span">the loft tracks were only placed in the arrival station.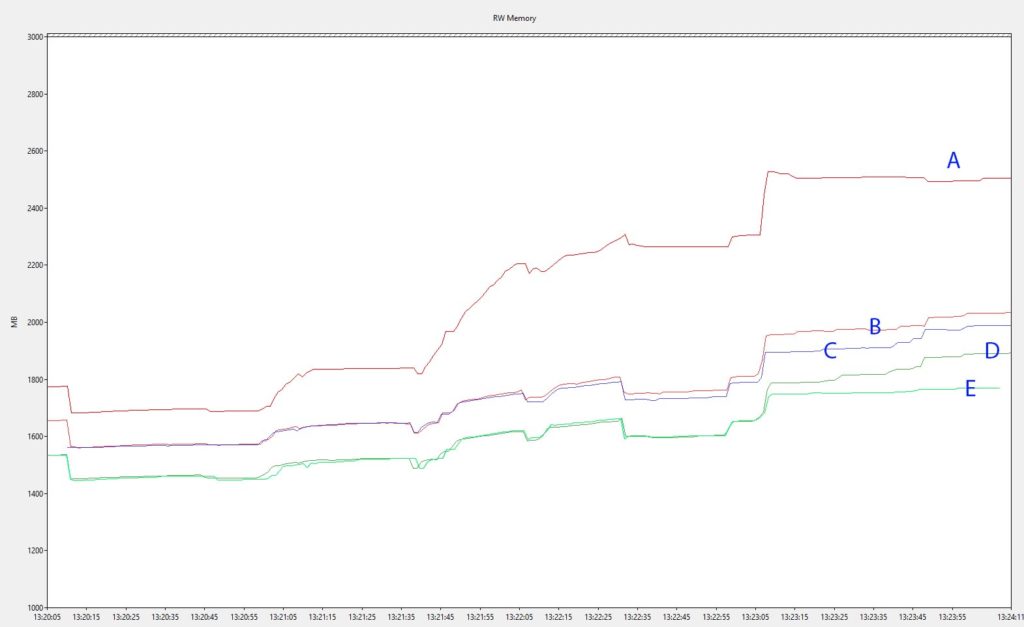 Summing up the activity, the optimization brings a benefit of min 200 MB, max 900 MB, which brings the route to being playable even with complex scenarios. When other modifications and pack revisions will be finished, a new beta (5.0) will be released for users of Italian Rotables in order to effectively verify the improvements on the paper.